A Mokoro excursion in Botswana's Okavango Delta is unique!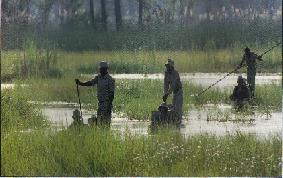 The shallow waters of the Okavango are traversed by shallow mekorro - which are 'poled' along by your professional Guide.
This enables you to view the wildlife that has concentrated at the water's edge in all safety, and to exlore the myriad of crystal clear waterways that make up the Okavango Delta obtaining stunning views of both the wildlife and birdlife .
Your professional Guide will be happy to track and stalk particular animals that you are interested in seeing.
There is no safari experience to match a mokoro excursion in the Okavango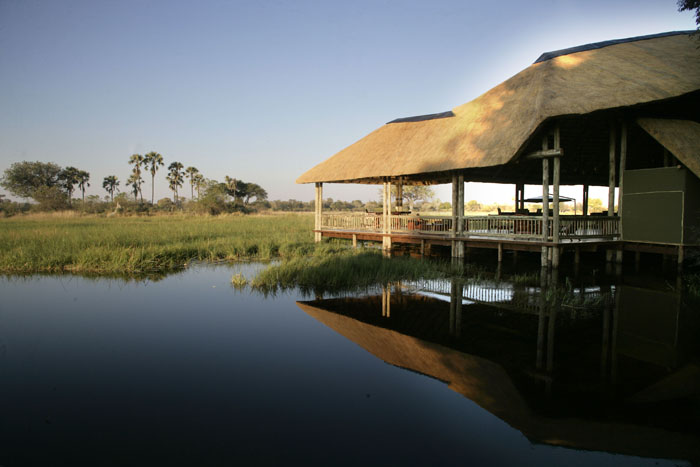 2 - 5 nights at Moremi Crossing a Safari Camp located on the banks of the Boro River, in the very heart of the Okavango Delta.
This traditional Safari Tented Camp - accommodating just 32 people in 16 comfortable walk-in tents, each furnished with comfortable beds and simple furnishings. Each tent has its own private facilities 'en-suite' - flush toilet, shower and wash basin
In addition to mokoro excusions, you will enjoy walking safaris on Chief's Island, and motor boat excursions on the Lagoon
The main building has a large open plan deck (built on different levels) that has a spectacular view over the Boro River and onto Chief's Island.
Dining room, bar and lounge are covered by a large thatched roof that hugs the tree line

In addition, there are a number of small private lounge areas, which allow for comfort, privacy and space.

From here there is a shaded decked area that leads to the pool. The entire camp is also shaded by magnificent llala palms, ebony, mangosteen, sausage and giant fig trees.
Activities are aimed at being personalised, and guiding is of a high level. Half or full-day activities are on offer.
Moremi Crossing offers the least expensive opportunity to experience a mokoro excursion, whilst being comfortably accommodated
EMAIL US - info@island-safari.com for more Information on Moremi Crossing Mokoro Excursions
"Moremi Crossing is in a beautiful location, mokoro experience is the best you can get, foot tracking is exciting though you don't meet any big cat, still the impression to be on foot into the wild is thrilling." Elani Rocchi October 2011

2 nights - The Kanana Mokoro Trail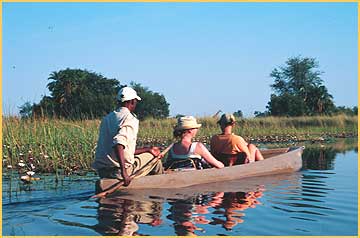 Starting from Kanana Camp, from where you will board a mokoro (traditional canoe) and glide peacefully out into one of the most remote areas of the Okavango Delta.
On a secluded island, you will find your rustic bush camp where friendly staff wait ready to welcome you with a refreshing cool drink.

The Kanana concession is prime habitat for these beautiful creatures and along with the multitude of bird species found in the area, including rarities such as the Pel's fishing owl and slaty egret, will be the focus of the activities on the trail.

As the temperature rises, it is time to retreat to your private oasis for a cool drink and lazy lunch followed by an afternoon of reflection from the comfort of your hammock.

Your exploration continues in the late afternoon taking a walk on an island, searching the canopies of the African ebony and the mangosteen for sign of the Pel's fishing owl or gliding through the reeds and miscanthus grass on your mokoro.

Accommodation is in twin bedded bow mosquito proof tents, Each tent has adjacent bucket shower and 'long drop' toilet facilities
EMAIL US - info@island-safari.com for more information on the Kanana Mokoro Trail
See more on the Kanana Mokoro Trail
Action Bar:

Problems mailing? Copy the E-mail address: info@island-safari.com to your E-mail client